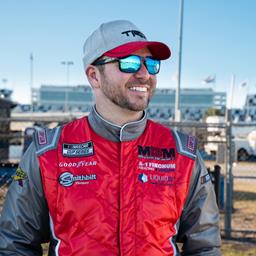 ---
Chad Finchum Competes in Marathon NASCAR Cup Series Event in Texas
Justin, Texas (10/29/20) - Chad Finchum began his NASCAR Cup Series weekend at Texas Speedway on Saturday, but persistent interruptions from Mother Nature ultimately pushed the conclusion of the Autotrader EchoPark Automotive 500 to Wednesday afternoon.
Chad started 40th on the grid in his RoofClaim.com No. 49 MBM Motorsports Toyota on Saturday afternoon and was up to the 33rd position, when rain intervened on lap 52.
The remainder of the event was postponed to Monday, but constant drizzle on both Monday and Tuesday forced the race schedule to be shuffled further back to Wednesday afternoon.
When action resumed on Wednesday Chad continued to log laps in Cup competition and ultimately registered a 35th-place finish.
Back to News