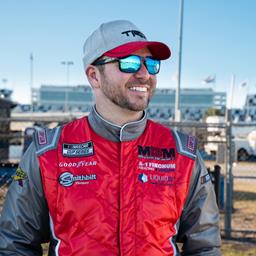 ---
Chad Finchum Doomed by Engine Woes at Dover
Dover, Delaware (10/05/19) - Chad Finchum returned to action on Saturday afternoon in Garrison Homes MBM Motorsports No. 61 1st State Marble & Tile Toyota Supra.
His latest event was the NASCAR Xfinity Series Use Your Melon Drive Sober 200 at Delaware's Dover International Speedway.
Chad qualified 30th on the grid and climbed ten spots during the race's first stage before engine woes forced him to retire from the event on lap 33.
"We made a lot of gains during practice, and that showed with our qualifying performance. In the race we immediately started clawing our way forward and had passed ten or so cars when something in the engine let go," Finchum shared. "Was a tough way to end the day, but I want to definitely thank Garrison Homes and 1st State Tile & Marble for coming on board to support us."
Finchum was scored in the 31st position in the final rundown.
Full results from the event are available at www.NASCAR.com.
Back to News