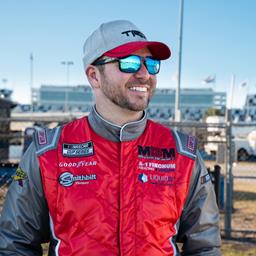 ---
Chad Finchum Scores 26th-Place Finish at Kansas Speedway
Kansas City, Kansas (10/19/19) - The Kansas Lottery 300 brought Chad Finchum to Kansas Speedway over the weekend, where he returned to the driver's seat of the Garrison Homes MBM Motorsports No. 61 1st State Marble & Tile/ Air Titan Bees Toyota Supra.
Finchum started 35th on the grid for NASCAR Xfinity Series event, and overcame mechanical issues to cross the finish line in the 26th position.
"My team did a great job this weekend, and did a heck of a job getting this car back together after I brushed the wall in practice. I never dreamed that we'd be able to bounce back to finish in the 20's," Finchum said. "During the race as good as my car was I could tell that something wasn't quite right. We discovered an issue after the race that kept the car from going full throttle. We'll get that resolved and head to Texas."
Back to News