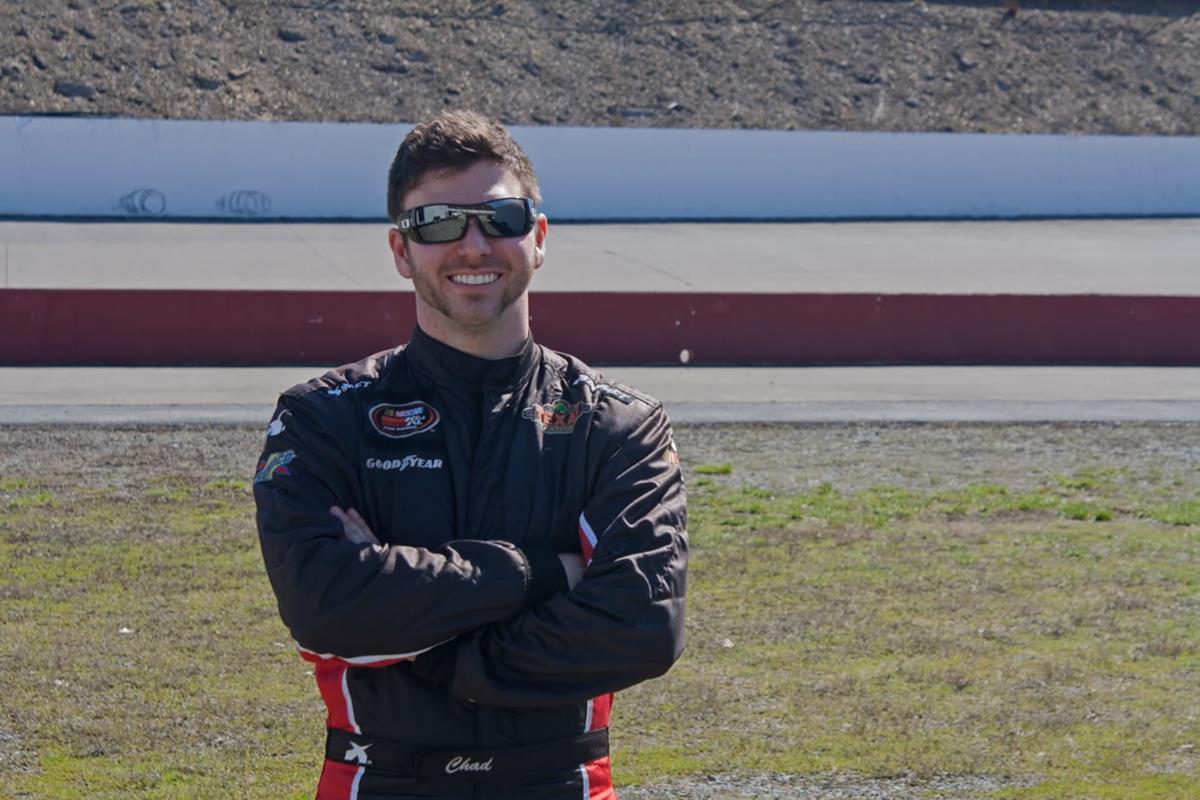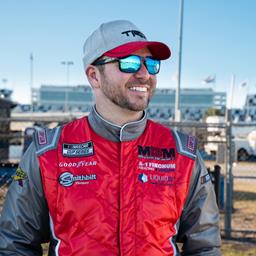 ---
Finchum records crowd-pleasing first Kingsport Speedway NASCAR victory in 2017
KINGSPORT, Tenn. (May 26, 2017) — It's not that Chad Finchum hadn't been running out front at any point this season in contention for a win, because he's led several laps in the three races he's ran in the Model City. Finchum, from Knoxville, finally sealed the deal and impressively captured his first NASCAR Whelen All-American Series Late Model Stock Car victory Friday at Kingsport Speedway on Patriot Mining Night at the Races.
"The biggest win I've had to this point in my racing career was the NASCAR K&N Pro Series victory in April 2016 at Bristol Motor Speedway," said Finchum while standing at back of his hauler in the pits following the night of racing at Kingsport Speedway. "With all the adversity and just pure disappointment we've faced from issues we've had racing here at 'The Concrete Jungle' this season, I'm going to say this is probably the most emotional victory lane celebration I've ever experienced. To get the win in such impressive fashion as we did tonight, especially considering how badly damaged our car was after getting wrecked by a fellow competitor the last race, this is just an awesome feeling.
"The car was torn-up pretty severely. It wasn't just the money it cost for repairs. There was considerable time we had to put in back at the shop fixing the damage. We basically had to replace all suspension pieces under front of the car, because they were either bent or broken. We had to put a new steering rack on, plus do body work on the car. The front shocks were broke. Wheels were bent and no longer able to be used. You just never know how a wrecked race car will drive once you've had to disassemble the components and put everything back together. For us to come back strong like we did tonight, our race team really earned this win."
With 21 cars participating in time-trials, Finchum was fastest in Late Model Stock Car qualifying at 15.099 seconds to narrowly edge out Wayne Hale's quick-lap at 15.106. The roll of the dice produced an invert of the top three qualifiers for the feature, thus placing Ronnie McCarty and Hale on the front row for the 60-lap main event.
Finchum fell in fourth behind leader Hale, Kres VanDyke and McCarty on the opening lap. The 22-year-old Finchum wasted little time getting around McCarty for third, overtaking Hale for second place on lap 5, and then setting his sights ahead on leader VanDyke.
You could hear a buzz among the crowd over loud sound of the racing engines, because VanDyke and Finchum have had their "heated moments" this season in racing incidents, with VanDyke coming out on top recording two feature wins and Finchum left disappointed parked in the pits with a wrecked race car on two occasions.
Racing is all about competition, and fans love seeing rivalries between the competitors. There are some in attendance weekly at "The Concrete Jungle" who say VanDyke is the villain, and Finchum the good-guy. That's all the ingredients for a good short-track racing rivalry.
Finchum closed to VanDyke's back bumper and got a strong run off the bottom exiting the fourth turn onto front straightaway on lap 8 to pull alongside VanDyke. They battled for the lead side-by-side for right at seven laps before Finchum pulled ahead on lap 13. Once into the lead, he never looked back en route to parking in victory lane.
"I know I was racing the whole field, but with the issues I've had racing with (Kres) VanDyke this season, and feeling like I've had wins taken away by getting wrecked, I've got to admit it was a pretty sweet deal in racing hard there with him side-by-side and then passing for the lead," Finchum stated. "There comes a point in time where you feel like you need to prove a point to somebody, let them know that you're not going to tolerate certain situations. I feel like I'm a clean racer and I always try my best to race against others and show them respect. But I just don't think he raced me with respect in previous races this season."
With a clear view out front, Finchum was setting a blistering pace around the .375-mile banked concrete oval. He led his closest challengers by 12 car lengths at the halfway distance, and over the final 30 laps Finchum cruised to his first win this season. Complete results from the Memorial Day holiday weekend racing program at Kingsport Speedway may be viewed at www.NewKingsportSpeedway.com. 
"Our car was not only fast tonight, it drove really well – and that's a winning combination," Finchum said. "On both ends of the track, the handling was great through the corners and that's huge. Middle way in, I could just pick the throttle up wide-open and accelerate with great forward bite up off the turn to launch us down the straightaway.
"We had set fast-time in qualifying, but due to the invert it put us starting the race from the second row. I just felt like once we could get into the lead, the race would be ours to win. I know I've got a good race car to drive and an awesome team in the pits supporting me. This was a total Team Finchum Racing victory."
Team Finchum Racing is owned by James and Linda Finchum, with crew chief J.E. Blankenship and team manager Tony Cordell overseeing preparation of the race car, with Tyler Reed, Jacob Ruble and Sam Couch pit crew members.
Supporters for Team Finchum Racing in 2017 on the No. 19 Ford Fusion include: A-1 Finchum Heating & Cooling, Overstock Mercantile, Texas Roadhouse, Finchum Paint & Body, Shaklee, Loveland Baptist Church, RW Race Engines, Five Star Race Car Bodies, and Hedgecock (Race Cars) Racing Enterprises.
To learn more about possible sponsor opportunities with Team Finchum Racing, contact James Finchum at (865) 740-3535. To keep up with Chad Finchum's racing throughout the season visit the website at www.ChadFinchum.com, on Facebook at Chad Finchum Racing, and Twitter @ChadFinchum.

Press Release Prepared By:

Walden Motorsports Communications
Johnson City, TN

Back to News