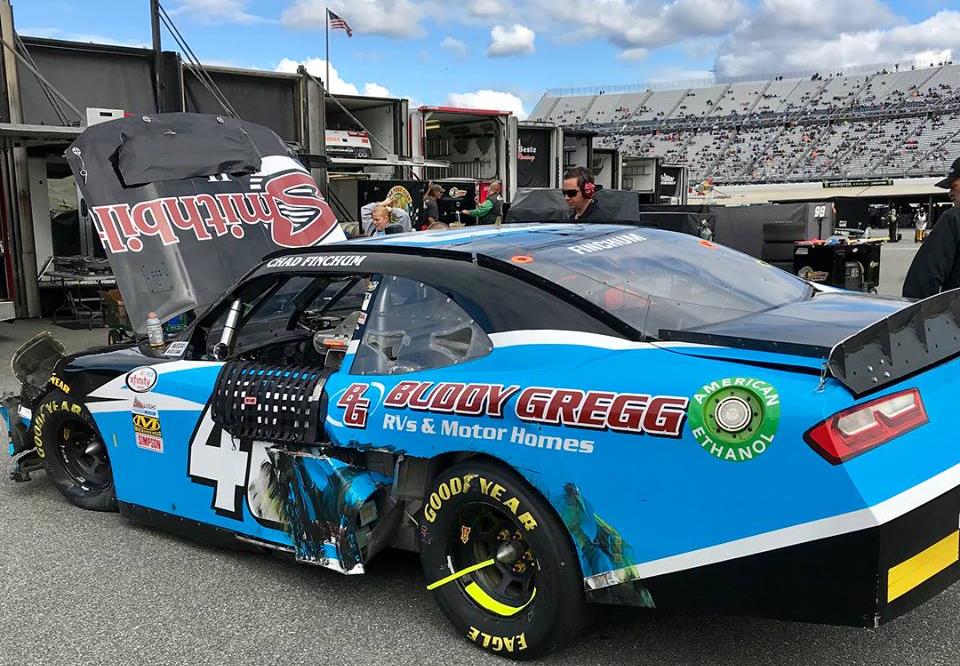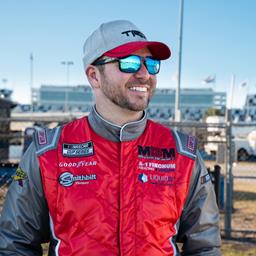 ---
NASCAR Xfinity Action Takes Finchum to Dover
Dover, Delaware (09/30/17) - Chad Finchum returned to NASCAR Xfinity Series competition on Saturday afternoon at Dover International Speedway (Dover, Delaware), where he was making his fifth-career start with the tour.
Finchum started his Use Your Melon, Drive Sober 200 weekend at the track known as "The Monster Mile," by qualifying 34th on the grid. Despite qualifying deep in the field, Chad knew that he had a really fast car in race trim.
In fact, less than 20 laps into the event, he was already up to the 26th position in his Buddy Gregg RVs & Motor Homes #40 MBM Motorsports entry. Unfortunately his day at the mile oval would be abruptly brought to an end just a few laps later, when he was caught up in a multi-car incident.
"Some cars checked up in front of us and when I checked up I got caught in the left rear, which sent us into the wall hard," Finchum said of the incident. "That's the second time this year that we've been in the wrong place at the wrong time at Dover. It's definitely disappointing, but it's just part of it when it comes to racing.
"I want to say a very special thanks to MBM Motorsports for preparing a super-fast race car once again. Sooner or later I know our luck is going to change, and we are going to get that finish that I know we are capable of achieving."
The team now turns their attention to the next event, which will see Chad piloting the #40 Chevrolet Camaro into battle in the Drive for the Cure 300 at Charlotte Motor Speedway (Concord, North Carolina) this Saturday, October 7.
For more details on the event as well as results from the Dover International Speedway event, please visit www.NASCAR.com.
To learn more about possible sponsor opportunities with Chad Finchum Racing, contact James Finchum at (865) 740-3535. To keep up with Chad Finchum's racing throughout the season visit the website at www.ChadFinchum.com, on Facebook at Chad Finchum Racing, and Twitter @ChadFinchum.
Chad Finchum Racing marketing partners.
Smithbilt Homes: Smithbilt Homes is the Knoxville area's largest residential home builder. Smithbilt Homes has been building affordable new homes since the 1950's. Whether you are a first time home buyer, upsizing, downsizing or relocating, Smithbilt can meet you needs. For more information about Smithbilt Homes visit - www.SmithbiltHomes.com. 
Buddy Gregg RVs & Motor Homes: Buddy Gregg RVs & Motor Homes is your one stop shop RV Super Center conveniently located just off I-75 / I-40 at Campbell Station Road. Buddy Gregg RVs & Motor Homes is a full line RV dealer affiliated with the top manufacturers in the industry. With over 300 RVs to choose from at the Knoxville location, makes Buddy Gregg's east Tennessee's premier dealer. For more information about Buddy Gregg RVs & Motor Homes visit - www.BuddyGregg.com. 

Press Release Prepared By:

Walden Motorsports Communications
Johnson City, TN

Back to News